When Furst-McNess Company was founded in 1908, it provided both products for inside the home and out on the farm. Stock food, insect powder and stock dips were listed in the very first catalog. The Krestol Salve tin carried the proclamation "for man or beast" for decades.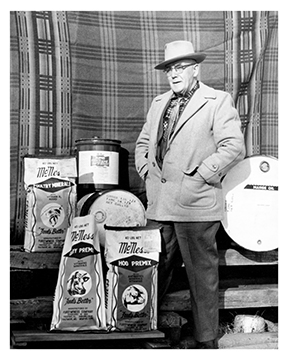 In the late 1950s, Fred McNess and Harold Marsh modernized mineral products into vitamin and mineral premixes, making livestock feed an integral part of the company.
In the 1980s, the Furst-McNess Company unveiled one of the first computerized ration-balancing programs in the industry.
In 1992, Furst-McNess Company acquired Canada-based Miracle Feeds, a commodities and brewers grain company. This enhanced the company's commodity business and set the stage for world-wide shipping.
In 2013, the company invested in a state-of-the-art swine research facility, creating innovative new products for raising healthy pigs.
In 2015, Furst McNess Company decided to concentrate entirely on agricultural products, transferring the home products operations over to Wisconsin-based Sugar River Trading Company in an exclusive license agreement.
In 2017, the company acquired Big Gain Wisconsin, another leading livestock feed and nutrition company. And in 2019, the Furst Animal Health brand was launched to further distinguish the technology and health products.
Today, Furst-McNess Company has headquarters in Canada and the United States, with a dozen other offices across the U.S.