During the 1930s, the Furst-McNess Company used endorsements by well-known celebrities as well as the "Champion Cake Maker" and other bakers as part of their advertising. The photos you see here are the "retouched" photos from the original archives and type was laid over the top later.
Descriptions below of the celebrities.
George Blake was a renowned boxing referee and trainer.
Peter De Paolo was an American race car driver who won the 1925 Indianapolis 500. He was the first Indy racer to average over 100 miles per hour. He was the 1927 Indy Series driving champion. His autobiography Wall Smacker was published in 1935.
Leo Diegal was an American professional golfer in the 1920s and early 1930s. In his career, he won 30 PGA events. In 1928 he won the Canadian Open and the PGA Championship (stopping the 4-year streak of Walter Hagen.) He went on to defend both titles in 1929. He was selected for the first four Ryder Cup teams. Diegel was inducted into the World Golf Hall of Fame in 2003.
Ruth Elder was an aviation pioneer and actress, known as "Miss America of Aviation". She was given a movie contract and starred in Moran of the Marines (1928) and The Winged Horseman (1929). The 1927 song Flaming Ruth by Arthur Fields was written about Elder.
Leila Hyams was a leading lady in the early days of film. Her best known film, Freaks (1932), has endured as a controversial cult classic. She retired from acting in the mid 1930s after performing in 50 films.
Natalie Moorhead was a theatrical and Hollywood actress in the 1920s and 30s, known for her platinum blonde hair. She played a vampish suspect in The Thin Man (1934) and a comic actress in Hook Line and Sinker (1930), as well as Parlor, Bedroom and Bath (1931.) All in all, she appeared in 65 films in her career.
Chester Morris is an actor who was nominated for an Academy Award for Best Actor in the 1929 film Alibi. He was the lead in The Big House (1930) and was cast opposite Jean Harlow in Red-Headed Woman (1932). In time his popularity declined and he starred in several B-movies. His career took a revival twist when he was cast as criminal turned detective Boston Blackie. He went on the appear in 14 of the popular Boston Blackie films. In his later career, Morris found himself in TV roles and into the mid-60s was performing guest roles on popular TV shows that included Route 66, The Defenders and Dr. Kildare.
Irene Ricardo…well to be honest, we don't know who Irene Ricardo is. But this photo, with her name on the back of it, was in the Furst-McNess Company archives. You have to admit it is an interesting photo. So we're including it here that maybe somebody might know something about Irene and can educate us on who she was.
Anita Page was referred to as "the girl with the most beautiful face in Hollywood" in the 1920s. She co-starred in three successful films with Joan Crawford, Our Dancing Daughters (1928), Our Modern Maidens (1929) and Our Blushing Brides (1930.) She also played opposite leading men that included Clark Gable, Buster Keaton and Robert Montgomery. Her finest film may have been The Broadway Melody, which won the Academy Award for Best Picture. A musical, it actually featured a Technicolor sequence, which started a color trend in musical films. Unfortunately, none of the color versions survive. An interesting aside, Page was one of the most popular actresses of the time and would receive over 10,000 fan letters in a week. Over 100 of her fan letters came from a distant admirer who proposed marriage numerous times, a man by the name of Benito Mussolini. (Yes, that Mussolini.)
Estelle Taylor was a model, singer, and actress, considered one of the most beautiful stars of silent films. Although she did make the transition to sound movies, by 1932 she decided to concentrate on her singing career.
Hedda Hopper was an actress, but is more well-known for her Hollywood gossip column Hedda Hopper's Hollywood. In the 1940s she had over 35 million readers. Always a controversial figure with her column, her support of the House Committee on Un-American Activities during the Hollywood blacklist days, and her exposes of those in the industry, would forever brand her as a sinister element in the witch hunts of the era.
…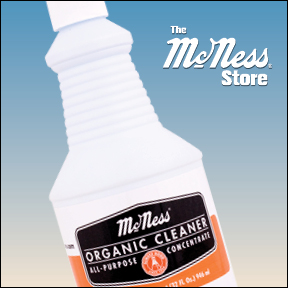 The F.W. McNess website is provided entirely to share interesting, historical information. Traditional McNess home products are still available today, visit McNessStore.com to learn more.